What warranty do I get on an Ideal Boiler?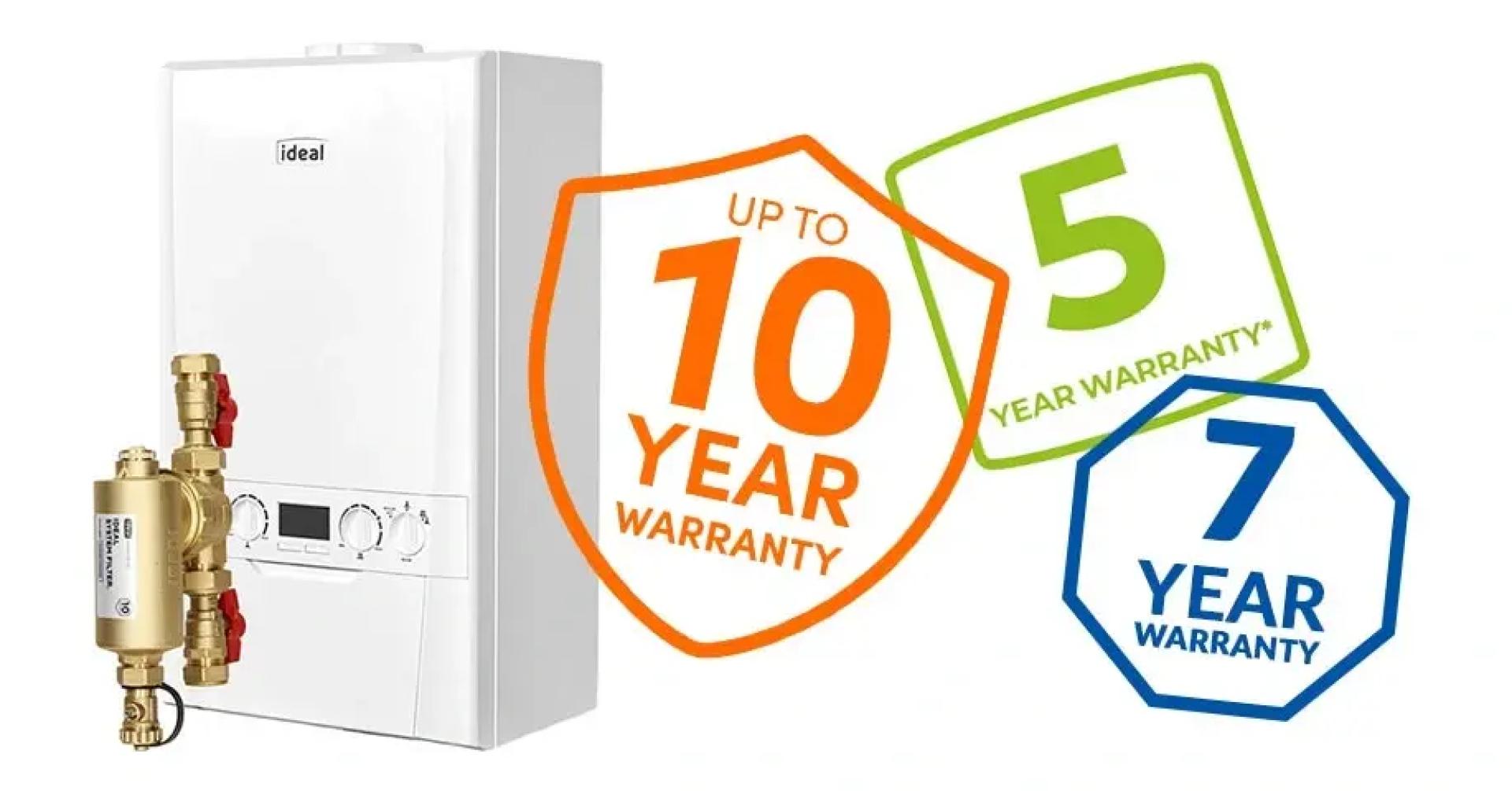 When buying and installing your boiler, boiler manufacturers offer you a warranty that covers your new boiler should there be any problems, but only for a period of time.
Every new boiler should be provided with a manufacturer-backed warranty, which gives you added peace of mind knowing that, if it breaks down or has faults, you are completely covered, and the manufacturer must arrange for repairs. If Ideal boilers find your standard (or extended) warranty covers you, you will qualify for a free boiler part and labour repair or a replacement boiler at no cost.
Ideal now offers a number of excellent warranties on their combi, system, and heat-only boiler ranges and all the Ideal boilers that we install are covered by the manufacturers-backed warranty, which is designed to protect you and the boiler from a range of manufacturer defects. This gives you protection from any production issues in the appliance.
Ideal offers a number of options for increasing your boiler's warranty. You can give Ideal a call to see what options are available for your particular boiler.
Depending on which boiler you buy, standard Ideal boiler warranties vary from 2-10 years. When you have your new boiler installed, you may be given the opportunity to extend the warranty by up to 5 years so depending on the boiler model that you chose, you can increase your boilers standard warranty to up to 12 years, as long as you get your boiler installed and maintained by a qualified accredited installer.
The lower cost boilers will come with a shorter warranty period than the larger high end Ideal boilers, so not all can be extended to 12 years but the option to extend even a shorter warranty is well worth investigating. For example, the Ideal Independent boiler comes with a shorter 7-year warranty as standard, whereas the Ideal Max range of boilers come with an out-of-box 10-year warranty - a 12-year warranty is available on this boiler, however, in order to receive the full warranty, you will need the Ideal Vogue Max installed by an Ideal Max accredited installer.
The more popular boiler is the Ideal Logic Max, which strikes the balance between the price and a longer 10-year warranty.
Be aware, however, that the warranty for any Ideal boiler will be limited to 12 months unless you register within 30 days after installation. Registration within the 30 days of your purchase is crucial for keeping the warranty on the Ideal boiler valid, and you must do so with the manufacturer directly. All boilers installed by ourselves are registered on your behalf as part of our service to ensure that you receive at least the standard warranty available.
Keep in mind that to get the longest possible warranty, you usually need to get the boiler installed by an accredited installer from the manufacturer, not just any gas-safe registered engineer. All new boilers come with a warranty because even the best boilers fail at times. It is important that you know when your warranty will be valid in order to save yourself some cash. There are a lot of things to consider when you are making a decision about buying a new boiler: finding a manufacturer that you trust, choosing the right model for your central heating system, looking at how efficient the boiler is, and lastly, checking out what warranty is offered.
If your warranty expires and your boiler is still functioning, you may be able to then sign up for a service plan with the manufacturer, however, it may be more economical at that stage to replace the boiler with a more efficient newer model and the warranty will be reinstated.
Published: 09 June 2022