Baxi Boiler Replacement and Installation
About Baxi
Baxi was founded in Britain in 1866 and as a well established name are synonymous with reliability, affordability and efficiency. They are part of the Baxi heating group along with other well-known brands such as Potterton, Main Heating, Megaflo, Potterton Commercial and Packaged Plant Solutions.

They offer an extensive range of boilers, both combi and heat only, and have a strong team of over 250+ highly trained engineers and installers. With a dedicated nationwide call centre, Baxi are renowned for their customer service.
Baxi strives to be the best in the industry and have won or been nominated for several awards including Training Initiative of the Year and Northern Ireland's Heating & Plumbing Awards - Best Marketing Campaign and they are also a Which? Trusted Trader.
Baxi currently supply:
Natural Gas Boilers
LPG (Bottled Gas) Boilers
About Baxi's range of boilers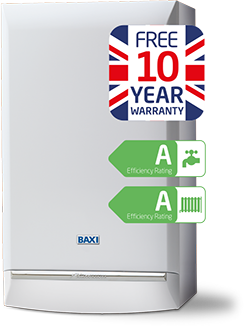 The highly efficient Baxi 200, 400, 600 and Baxi Duo-tec combi are popular compact boilers that fit inside a standard kitchen cupboard making them great space-saving boilers for houses that don't have room for tanks or cylinders.
The Baxi EcoBlue Advance Combi is an energy efficient boiler that meets the minimum rating required for Boiler Plus compliance and is also Energy Saving Trust Endorsed. This boiler has a 10 year warranty as standard.
The top of the range Baxi Platinum Combi, built in the UK using high quality brass components, has an EasyFill feature to enable you to top up the central heating system pressure without needing to call an engineer.
For customers wanting a standard heat only system the Baxi 200, 400 and 600 Heat boilers are a great choice. Their compact size and quiet operation mean they can be installed in a convenient location without any disruption. The 400 and 600 models also have the option of a rear flue for even neater installation.
All new boilers come with a warranty from the boiler manufacturer. This means that if you experience a genuine fault with the boiler during the 'warranty period', the manufacturer will repair the boiler free of charge. Depending on the chosen boiler Baxi warranties range from 3 years right up to 10 years.
A summary of Baxi's full range
Boiler Model
Sizes Available
Efficiency
Warranty
Combi Boilers
Baxi 200
24kW | 28kW
89%
3 years
Baxi 400
24kW | 28kW
89%
5 years
Baxi 600
24kW | 30kW | 36kW
89%
7 years
Baxi 800
25kW | 30kW | 36kW
93%
10 years
Baxi Duo-tec
24kW | 28kW | 33kW | 40kW
88.5% - 88.6%
7 years
Baxi Platinum
24kW | 28kW | 33kW | 40kW
88.9% - 89%
10 years
Baxi Platinum+
40kW
93%
10 years
Baxi EcoBlue+
24kW | 28kW | 33kW
89.1%
7 years
Baxi EcoBlue Advance
24kW | 28kW | 30kW | 40kW
89.1%
10 years
Baxi 400 Combi LPG
28kW
89%
5 years
Baxi 600 Combi LPG
24kW | 30kW | 36kW
89%
7 years
Baxi Duo-tec LPG
28kw
88.6%
7 years
Standard Boilers
Baxi 200 Heat
12kW | 15kW | 18kW | 24kW | 30kW
89.1% - 89.2%
3 years
Baxi 400 Heat
12kW | 15kW | 18kW | 24kW | 30kW
89.1% - 89.2%
5 years
Baxi 600 Heat
13kW | 16kW | 19kW | 25kW | 30kW
89.1% - 89.2%
7 years
Baxi EcoBlue Heat
12kW | 15kW | 18kW | 21kW | 24kW
89.1% - 89.2%
2 years
Baxi EcoBlue Advance Heat
13kW | 16kW | 19kW | 25kW | 30kW
89.1% - 89.2%
7 years
System Boilers
Baxi Megaflo System
15kW | 18kW | 24kW | 28kW | 32kW
88.5% - 88.6%
7 years
Baxi 600 System
15kW | 18kW | 24kW
93%
7 years
Baxi 800 System
18kW | 24kW
93%
10 years
Baxi 600 System LPG
24kW
93%
7 years
For further information on our new boiler installation and boiler replacement services across , please give us a call or send us a message