Wireless Time and Temperature Controls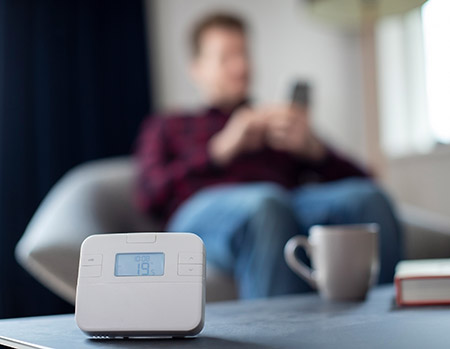 Whether it's a separate clock and thermostat for a standard or system boiler or, more commonly, combined controls for a combi boiler, wireless controls work off an RF (radio frequency) meaning that they do not need any cables for the final position. The combined clock and thermostats can have a stand so they don't even need fitting to a wall.
They all need a receiver which is wired into the boiler or at the airing cupboard with all the other parts. The advantages are that no new cables need to be run, saving on any disruption lifting floorboards or needing any decoration afterwards.
Many time clocks now also include the ability to control your heating and hot water from your smart mobile phone. This enables you to easily set timers and schedules for your heating and for standard or system boilers to heat water in the cylinder. You'll also be able to instantly turn the heating on or off to give it a boost when needed.
For further information on our new boiler installation and boiler replacement services across , please give us a call or send us a message