Ideal Boiler Replacement and Installation
Here at Evolve Maintenance we have been installing Ideal boilers for many years. We have experience in like for like Ideal boiler replacements, brand new Ideal boiler installations and full conversions from a standard, system or back boiler to an Ideal combi.
By using our online boiler quote tool or giving us a call we can advise the best boiler model for your every day needs and give you a great price and a fixed price guarantee for boiler and installation. We will find a time most convenient to you, including weekends, and we're usually in and out in just a single day.
For more information please don't hesitate to get in touch!
About Ideal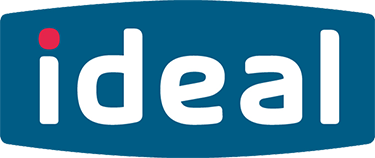 Founded in 1906, Ideal Boilers have over 100 years experience developing heating systems and manufacturing boilers to meet the ever-changing demands of homeowners across the UK.
They are a well-recognised brand with a good reputation for quality, service and innovation, both for the customer and the installer. They are proud of introducing high efficiency technology into the UK in the 1980s.
Ideal Boilers strive to continually build and provide reliable products that are competitively priced within the industry and have received awards and nominations including Good Housekeepings Reader Recommended in both 2019 and 2020. They are dedicated to delivering great customer service based on experience and a highly knowledgeable team
Ideal currently supply:
Natural Gas Boilers
LPG (Bottled Gas) Boilers
About Ideal's range of boilers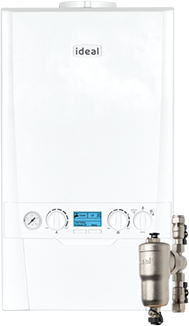 The award winning Logic+ and Vogue Gen2 range of combi boilers offer modern technology and quality parts for a reliable boiler ideal for most households. They have clear controls and a large display panel for ease of use and are compact enough to fit inside a standard kitchen cupboard.
The Logic Max and Vogue Max combine the Logic+ and Vogue Gen2 boilers with a high quality brass system filter to enhance the life of your heating system and extend your warranty.
For standard systems Ideal offer the Logic and Logic+ heat boilers and the Logic+ includes an LPG conversion option. These are low weight compact boilers that are very popular amongst families. Again the Logic Max Heat combined with their quality filter extends the life of the system and warranty.
As well as their own digital controls Ideal also offer a weather compensation kit that works by measuring the temperature outside the home and adjusting the temperature of the radiators inside accordingly.
All new boilers come with a warranty from the boiler manufacturer. This means that if you experience a genuine fault with the boiler during the 'warranty period', the manufacturer will repair the boiler free of charge. The entry level Ideal boiler comes with a standard 2 year warranty but when combined with an Ideal filter can be extended to 7, 10 or even a market leading 12 years.
A summary of Ideal's full range
Boiler Model
Sizes Available
Efficiency
Warranty
Combi Boilers
Logic
24kW | 30kW | 35kW
94%
2 years
Logic+
24kW | 30kW | 35kW
94%
7 years
Vogue Gen2
26kW | 30kW | 40kW
89.2% - 89.3%
10 years
Logic Max
24kW | 30kW | 35kW
93%
10 years
Vogue Max
26kW | 32kW | 40kW
94%
12 years
Standard Boilers
Logic+
12kW | 15kW | 18kW | 24kW | 30kW
89.4% - 89.8%
7 years
Logic Max
12kW | 15kW | 18kW | 24kW | 30kW
93%
10 years
System Boilers
Logic+
15kW | 18kW | 24kW | 30kW
89.4% - 89.8%
7 years
Vogue Gen2
15kW | 18kW | 26kW | 32kW
89.4% - 89.9%
10 years
Logic Max
15kW | 18kW | 24kW | 30kW
93% - 94%
10 years
Vogue Max
15kW | 18kW | 26kW
92% - 93%
12 years
For further information on our new boiler installation and boiler replacement services across , please give us a call or send us a message