Vokèra Boiler Replacement and Installation
About Vokèra
Newer to the market and less prominent than some of the other manufacturers, Vokèra, under global parent company Riello Group, have been trading for 35 years across the UK and Ireland.

They are dedicated to offering high quality, high efficiency, reliable domestic gas boilers and because they use the same piping layout, when needed, upgrading to a newer model is simple and straightforward.
Vokèra currently supply:
Oil boilers
Unvented cylinders
Water heaters
Renewable technologies
Controls
About Vokèra's range of boilers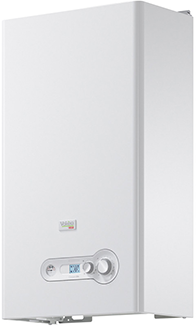 The Vokèra range of combination boilers include the entry level Compact A, a lower cost option that doesn't compromise on quality. This, along with the Vision C, are compact space saving models and the Vision also includes a rear flue for an even more compact installation
The higher end models are the Unica i and the Evolve C with advanced energy efficiency standards. The Evolve C features a BeSMART wifi thermostat and an excess carbon monoxide monitor for extra safety - should Carbon monoxide be detected the boiler will shut down until the issue is resolved.
The range of system boilers include the Evolve S and the Vision S. The Vision condensing system boiler has ErP Class A energy efficiency and is ideal for houses with multiple bathrooms. It also features an optional pipe cover for an exceptionally neat appearance.
All new boilers come with a warranty from the boiler manufacturer. This means that if you experience a genuine fault with the boiler during the 'warranty period', the manufacturer will repair the boiler free of charge. The entry level Vokèra boiler comes with a standard 2 year and the top end models comes with a 10 year warranty.
A summary of Vokèra's full range
Boiler Model
Sizes Available
Efficiency
Warranty
Combi Boilers
Compact A
25kW | 29kW
89% - 89.1%
5 years
Vision C
25kW | 30kW
89% - 89.1%
5-7 years
Unica i
28kW | 32kW | 36kW
89.2% - 89.6%
7 years
Evolve C
24kW | 28kW | 32kW | 35kW | 42kW
94%
10 years
System Boilers
Vision S
20kW | 25kW
89% - 89.1%
7 years
Evolve S
18kW | 24kW | 30kW | 35kW
94%
7 years
For further information on our new boiler installation and boiler replacement services across , please give us a call or send us a message