Worcester Bosch Boiler Replacement and Installation
Here at Evolve Maintenance we have been installing Worcester Bosch boilers for many years. We have experience in like for like Worcester boiler replacements, brand new Worcester boiler installations and full conversions from a standard, system or back boiler to a Worcester combi.
By using our online boiler quote tool or giving us a call we can advise the best boiler model for your every day needs and give you a great price and a fixed price guarantee for boiler and installation. We will find a time most convenient to you, including weekends, and we're usually in and out in just a single day.
For more information please don't hesitate to get in touch!
About Worcester Bosch
Founded in 1962, Worcester became part of the Bosch group (Thermotechnology division) in 1996 and are considered by many to be the market leader and best boiler brand available. Offering reliable and efficient central heating products, Worcester were awarded the Which? Best Buy for 9 years in a row and the company often features in best boiler surveys, especially for their Greenstar boiler range.

Based in the UK, Worcester boilers are designed and built using only the highest quality materials and to very exacting standards so that they continue to provide the high level of quality and reliability that is synonymous with the Bosch name all over the world. They are known to be high end and amongst the most expensive boiler but in recent years they have invested greatly into online marketing and sales to move in-line with other boiler prices.
Worcester Bosch currently supply
Natural gas boilers
Oil boilers
Hot water cylinders
Renewable technologies such as heat pumps and solar water heating systems
Controls and accessories
About Worcester Bosch's range of boilers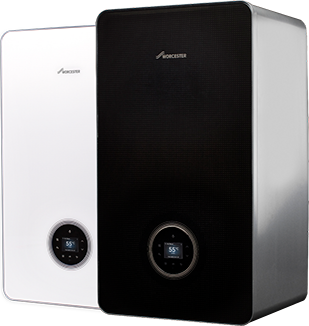 Worcester's Worcester's newest range of combi boilers includes the extremely popular Greenstar 4000 for small to medium homes, running at 25kW and 30kW for instant heat and hot water to your home.
For larger homes Worcester's range of combi boilers are in the Greenstar Lifestyle range - the Greenstar 8000 Life and the top of the range Greenstar 8000 Style which is available in both white and, unusually, in black. They are a very modern sleek design housing a powerful boiler up to 50kW and a range of features and updated controls.
The standard boiler range, to be used with a regular hot water cylinder and cold water tank, include the Greenstar 8000 Life Regular, the Greenstar Ri that range from 9kw to 30kw and the powerful Greenstar CDi FS Regular for larger homes.
The system boiler range, to be used with a vented or unvented cylinder, include the Greenstar 8000 Life System, the Greenstar 8000 Style System and the Greenstar 4000 System that range from 9kw to 30kw which are suitable for all types of properties and for homes with multiple bathrooms where hot water is in high demand.
All new boilers come with a warranty from the boiler manufacturer. This means that if you experience a genuine fault with the boiler during the 'warranty period', the manufacturer will repair the boiler free of charge. The majority of Worcester Bosch boilers come with a standard 2 year warranty, although the Greenstar HE (High Efficiency) Gas-Fired Boilers: CDi, Ri, Si and i ranges extends to 5 years. They also offer an exclusive 10 year guarantee to customers who choose a Worcester Bosch Accredited Installer and include a Worcester Bosch Greenstar system filter. We make this a requirement of our 10 year guarantees as we know that adding a system filter can prevent significant damage caused by dirt and debris such as rust, which builds up in your central heating system over time.
A summary of Worcester Bosch's full range
Boiler Model
Sizes Available
Efficiency
Warranty
Combi Boilers
Greenstar 4000
25kW | 30kW
94%
7 years
Greenstar 8000 Life
30kW | 35kW | 40kW | 45kW | 50kW
94%
10 years
Greenstar 8000 Style
30kW | 35kW | 40kW | 45kW | 50kW
94%
10 years
Standard Boilers
Greenstar Ri
12kW | 15kW | 18kW | 21kW | 24kW | 27kW | 30kW
92%
2-7 years
Greenstar CDi FS
30kW | 42kW
92%
7 years
Greenstar 8000 Life Regular
30kW | 35kW | 40kW | 45kW | 50kW
94%
10 years
System Boilers
Greenstar 4000 System
9kW | 12kW | 15kW | 18kW | 21kW | 24kW | 27kW | 30kW
92% - 94%
7 years
Greenstar 8000 Life System
30kW | 35kW
94%
10 years
Greenstar 8000 Style System
30kW | 35kW
94%
10 years
For further information on our new boiler installation and boiler replacement services across , please give us a call or send us a message